Ash Wednesday is one of the most popular and important days in the liturgical calendar. Ash Wednesday opens Lent, a season of fasting and prayer, but is not a holy day of obligation.
Ash Wednesday comes from the ancient Jewish tradition of penance and fasting. The practice includes the wearing of ashes on the head. The ashes symbolize the dust from which God made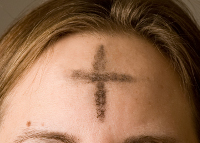 us. As the minister applies the ashes to a person's forehead, he speaks the words: "Remember that you are dust, and to dust you shall return." Alternatively, the minister may speak the words, "Repent and believe in the Gospel."
March 1-Ash Wednesday/Miércoles de Ceniza 
Turn back to the Lord and do penance. Be renewed in heart and spirit.
Ash Wednesday:  March 1
7:00 a.m. Laudes en español (Morning Prayer in Spanish)
9:00 a.m. Mass
12:15 p.m. Midday Prayer
5:00 p.m. Evening Prayer
6:30 p.m. Mass
8:00 p.m. Liturgia de la Palabra en español (Liturgy of the Word in Spanish)
(No distribution of ashes at 8:30 a.m. Morning Prayer, NO 5:15 p.m. CONFESSIONS)
The second collection is for Archdiocesan Social
Ministries
Reconciliation is not available on Ash Wednesday/
La reconciliación no está disponible en Miércoles de Ceniza